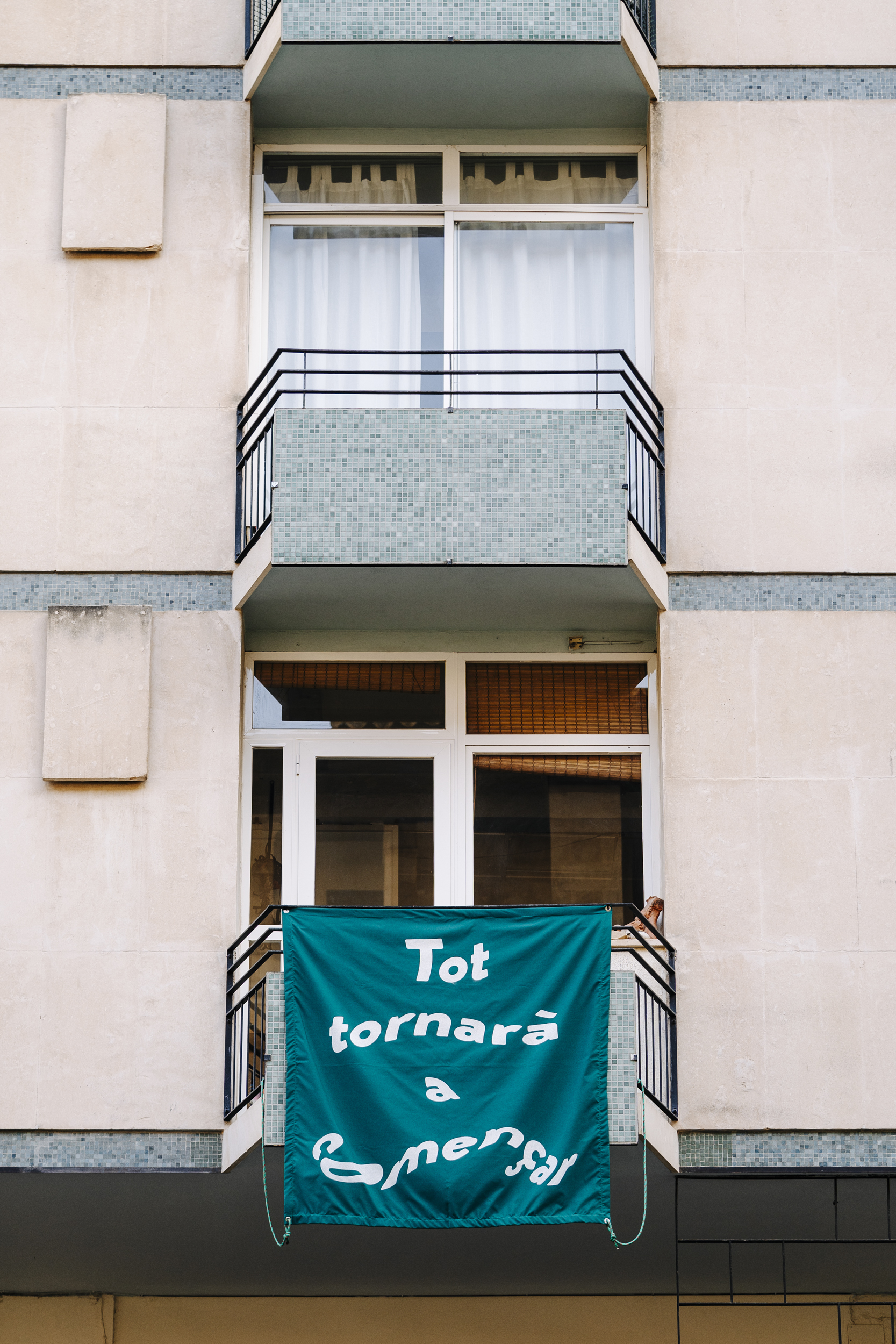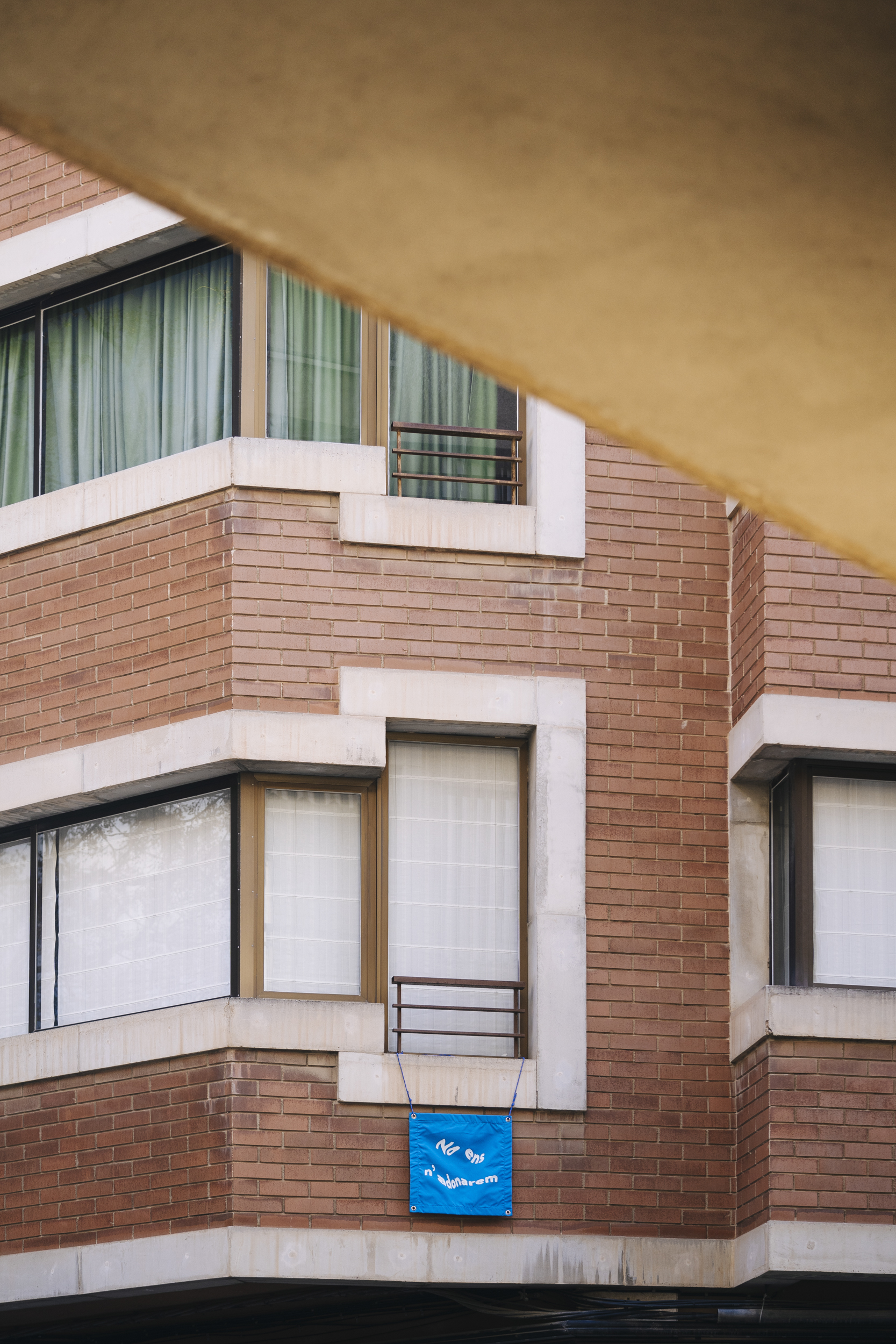 QUAN TOT AIXÒ ACABI...
Publication and text by Gloria López Cleries
CAT
Projecte guanyador de la Crida de projectes de creació 2020 del Casal Solleric.
Quan tot això acabi…
visibilitza una sèrie de desitjos, sensacions i projeccions individuals, alhora que col·lectius. El projecte present investiga sobre la construcció social a través del desig amb una sèrie de frases que s'han instal·lat a la ciutat de Palma. Què és el que volem com a individus? Quins desitjos són realment propis i quins ens formen com a societat?
A partir de l'estat d'alarma, declarat a l'estat espanyol el 14 de març de 2020, Bartomeu Sastre va proposar, a través de les xarxes socials, de completar la frase següent: "Quan tot això acabi… ", tot jugant amb l'ambigüitat i les seves possibles interpretacions. Aquest procés, aparentment senzill, ha generat una conversa respecte de la situació actual, dels mateixos estats d'ànim, de sensacions o pensaments pels quals puguem transitar, els quals a vegades no tenim amb qui compartir.
En una primera lectura, les obres generades poden parèixer una conseqüència directa de la situació generada pel virus covid-19. Però si les rellegim, probablement també podran ser interpretades com a deriva del sistema neocapitalista en el qual ens trobam immersos. I és que aquesta crisi ens ha obligat a aturar i alentir les rutines del sistema, tenint en compte "la reivindicació esgotada del cos individual que reclama el dret al descans social"
1
i, així, a replantejar-nos-ho tot o quasi tot. Amb el material recopilat s'ha fet una selecció d'onze frases (més el títol del projecte) i s'han escrit sobre diverses teles en forma de pancarta. Per a la confecció d'aquestes pancartes, s'ha utilitzat un teixit amb certificat d'ús sanitari d'ITEL. Sobre les teles s'hi han escrit les frases en color blanc, mitjançant la tècnica de la polvorització, per imitar, així, les gotes microscòpiques de fluids com la saliva, a través de la qual es transmeten alguns virus.
Per compartir aquest projecte amb tota la ciutadania de Palma, s'ha fet una crida perquè, qui ho vulgui, pugui ensenyar durant un mes una de les teles des del seu balcó, una finestra o un espai que doni a l'espai públic. Així el projecte es concreta d'una manera deslocalitzada i orgànica, ja que tothom que passi pel carrer i els mateixos veïns podran gaudir-ne i fer-se preguntes sobre els seus possibles significats o qui interpel·la. Aquests actes comunicatius resultants es convertiran en petites accions de resistència del present, tot imaginant un altre futur.
S'utilitza la deformació del text com a paral·lelisme amb la situació actual, en què la realitat que coneixíem ha canviat fins a un punt gairebé irreconeixible i, ara, allò que donàvem per segur ha mutat i hem d'aprendre a adaptar-nos al nou entorn. Així, es planteja una relació elàstica amb l'espectador, el qual s'haurà d'aturar per desxifrar el que hi diu, ja que a primer cop d'ull la majoria de frases no són llegibles. Així, s'obliga a una lectura més pausada i reflexiva que es desmarca dels grans cartells publicitaris, que cerquen tot el contrari, un consum ràpid, involuntari i automàtic.
—
1. Barthes, Roland.
Lo neutro. Notas de cursos y seminarios en el Collège de France
, 1977-1978. Mèxic: Siglo XXI, 2004, p. 63.
---
ESP
Proyecto ganador de la Crida de contractació de projectes de creació 2020 del Casal Solleric.
Quan tot això acabi...
visibiliza una serie de deseos, sensaciones y proyecciones individuales, al tiempo que colectivos. El proyecto presente investiga sobre la construcción social a través del deseo con una serie de frases que se han instalado en la ciudad de Palma. ¿Qué es lo que queremos como individuos? ¿Qué deseos son realmente propios y cuáles nos conforman como sociedad?
A partir del estado de alarma, declarado en España el 14 de marzo del 2020, Bartomeu Sastre propuso, a través de las redes sociales, completar la frase siguiente: "Cuando todo esto acabe...", jugando con su ambigüedad y sus posibles interpretaciones. Este proceso, aparentemente sencillo, ha generado una conversación respecto a la situación actual, los propios estados de ánimo, de sensaciones o pensamientos por los que podamos transitar, ya que a veces no tenemos con quién compartirlos.
En una primera lectura, las obras generadas pueden parecer una consecuencia directa de la situación generada por el virus covid-19. Pero si las releemos, probablemente también podrán ser interpretadas como deriva del sistema neocapitalista en el que nos encontramos inmersos. Y es que esta crisis nos ha obligado a detener y ralentizar las rutinas del sistema, teniendo en cuenta "la reivindicación agotada del cuerpo individual que reclama el derecho al descanso social"
1
y, así, a replanteárnoslo todo o casi todo. Con el material recopilado se ha hecho una selección de once frases (más el título del proyecto) y se han escrito sobre varias telas en forma de pancarta. Para la confección de estas pancartas, se ha utilizado un tejido con certificado de uso sanitario de ITEL. Sobre las telas se han escrito las frases en color blanco, mediante la técnica de la pulverización, para imitar, así, las gotas microscópicas de fluidos como la saliva, a través de la cual se transmiten algunos virus.
Para compartir este proyecto con toda la ciudadanía de Palma, se ha hecho un llamamiento para que, quien quiera, pueda enseñar durante un mes una de las telas desde su balcón, una ventana o un espacio que dé al espacio público. Así el proyecto se concreta de una manera deslocalizada y orgánica, ya que todo el mundo que pase por la calle y los propios vecinos podrán disfrutar y hacerse preguntas sobre sus posibles significados o a quién interpela. Estos actos comunicativos resultantes se convertirán en pequeñas acciones de resistencia del presente, imaginando otro futuro.
Se utiliza la deformación del texto como paralelismo con la situación actual, donde la realidad que conocíamos ha cambiado hasta un punto casi irreconocible y, ahora, lo que dábamos por seguro ha mutado y tenemos que aprender a adaptarnos al nuevo entorno. Así, se plantea una relación elástica con el espectador, que deberá detenerse para descifrar lo que dice, ya que a primera vista la mayoría de frases no son legibles. Así, se obliga a una lectura más pausada y reflexiva que se desmarca de los grandes carteles publicitarios, que buscan todo lo contrario, un consumo rápido, involuntario y automático.
—
1. Barthes, Roland.
Lo neutro. Notas de cursos y seminarios en el Collège de France,
1977-1978. México: Siglo XXI, 2004, p. 63.
---
ENG
Winner project of the Casal Solleric 2020 grant for creative projects.
When all this is over…
makes visible a series of desires, sensations and projections, both individual and collective. The present project investigates the construction of the social through desire with a set of phrases which have been installed around the city of Palma. What do we want as individuals? What desires are genuinely our own and which ones shape us as a society?
In response to the state of alert declared in Spain on March 14, 2020, Bartomeu Sastre launched a proposal on social media to complete the phrase 'When all this is over…', inviting people to play with ambiguity and various possible interpretations. This apparently simple process has generated a conversation about the current situation and the moods, feelings and thoughts we may be going through, while at times having no one to share these with.
On a first reading, the works generated may seem a direct consequence of the situation generated by the Covid-19 virus. But if we read them again they can probably also be interpreted as a dérive of the neo-capitalist system in which we find ourselves immersed. And the fact is that this crisis has forced us to stop, to slow down the routines of that system and take into account the 'exhausting claim of the individual body that demands the right to social repose'
1
, and, in so doing, to rethink everything, or almost everything. Eleven phrases were selected from the material submitted via social media and written out, together with the title of the project, on banners made from a fabric with an ITEL hygiene certificate. The white pigment with which the phrases are written was aerosol sprayed onto the fabric, thus replicating the microscopic drops of fluids such as saliva on which certain viruses are transmitted.
In order to share this project with the whole of Palma, a public appeal has been made, inviting anyone who wants to to display one of the banners on their balcony, in a window or anywhere else visible from the public space, for a month. In this way the project is decentralised and takes shape in an organic form, so that the local people and passers-by can engage with it and ask questions about its possible meanings and who it is addressing. These communicative acts will question the present as small-scale actions of resistance, imagining another future.
The distortion of the text is conceived as a parallel to our current situation, in which the reality we knew has changed so much as to become almost unrecognizable, where what we used to take for granted has been transformed and we must now learn to adapt to the new environment. This posits an elastic relationship with the viewer, who will have to stop to decipher the text, since most of the phrases will not be legible at first glance. The project thus sets itself apart from the typical advertising billboard, designed to trigger rapid, involuntary, automatic consumption, by calling for the opposite – a less hurried and more contemplative reading.
___
1. Roland Barthes,
The Neutral: Lecture Course at the Colleg de France
, 1977-1978. New York: Columbia University Press, 2005, p. 18.