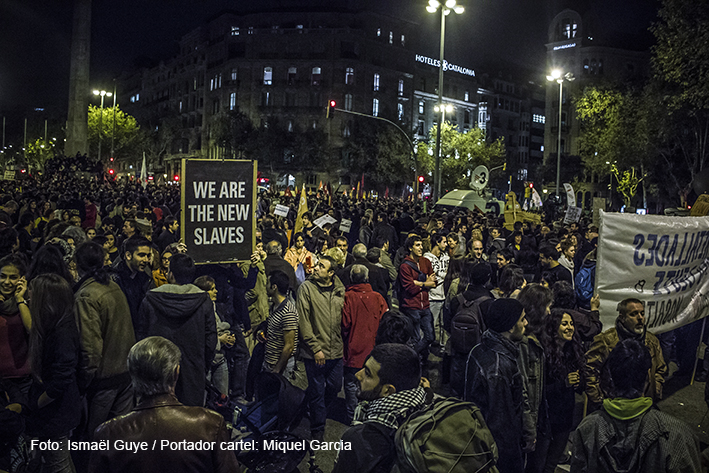 WE ARE THE NEW SLAVES

Project realized with Marcos Cuesta during a residence at CRIDA. 2012
Exhibition curated by Iván Mejía in the cicle Financial Crimes. Sala Muncunill. Terrassa, Catalunya, ES. 2013

ESP

---
Esclavo, va.
(Del b. lat. sclavus, este del gr. bizant. σκλάβος, der. regres. de σκλαβηνός, propiamente, 'eslavo', y este del eslavo slovĕninŭ, nombre que se daba a sí mismo el pueblo eslavo, que fue víctima de la esclavitud en el Oriente medieval).
1. adj. Dicho de una persona: Que carece de libertad por estar bajo el dominio de otra. U. t. c. s.
2. adj. Sometido rigurosa o fuertemente a un deber, pasión, afecto, vicio, etc., que priva de libertad. Hombre esclavo de su palabra, de la ambición, de la amistad, de la envidia. U. t. c. s.
3. adj. Rendido, obediente, enamorado. U. t. c. s.
4. m. y f. Persona alistada en alguna cofradía de esclavitud.
5. f. Pulsera sin adornos y que no se abre.
6. f. El Salv. y Hond. Pulsera grande que puede abrirse.
7. f. Ur. Pulsera rígida, circular o poligonal, que puede llevar dijes y que no tiene cierre.
~ ladino.
1. m. El que llevaba más de un año de esclavitud.
ser alguien un ~.
1. loc. verb. Trabajar mucho y estar siempre aplicado a cuidar de su casa y hacienda, o a cumplir con las obligaciones de su empleo.
Real Academia Española

Póster
Este proyecto surgió a partir de la misma frase que le da título; "We are the new slaves". La formalización de dicha frase, ha sido la impresión en una edición formato póster de 500 unidades, de las cuales 250 serán destinadas al espacio público, que serán colocados en paredes y espacios a pie de calle. Por tanto We are the new slaves, consiste en cuestionar y proponer que el hecho de la renovación –tan propia en nuestros días– para algo viejo, invisibiliza en cierta manera las condiciones propias de esa categoría –la esclavitud, que supuestamente ha desaparecido pero que sigue vigente bajo otras formas y estructuras.

Chapas
Planteamos como acto político en si mismo el hecho de elegir, aún que en este caso solo se elija una chapa. Cualquier decisión lleva siempre unas consecuencias determinadas que hay que acatar. Aún que cuando la tomamos no seamos conscientes de cuales van a ser algunas de sus consecuencias. Tomar parte y tomar un lema como propio también es tomar parte política y social de unas condiciones, que pueden ser meras aspiraciones o situaciones propias de cada individuo. Por ello, en este proceso de decisión cuando se elija una chapa, el individuo también se llevará a su pareja, su antonimo, su opuesto su o pareja natural, que puede ser regalada a su vez a otra persona. Desde un punto de vista del lenguaje, la enumeración de parejas de antónimos muestra como el lenguaje y su clasificación impiden la diversidad de acercamientos y posicionamientos indivuales y también colectivos. Así, mediante el lenguaje, se propone un juego reduccionista que restringe las posibilidades de elección de cada individuo, para provocar con ello la toma de partido que cada individuo debe hacer a lo largo de su vida.

ENG

---

Slave
(noun)
- a person who is the legal property of another and is forced to obey them.
- a person who works very hard without proper remuneration or appreciation: by the time I was ten, I had become her slave, doing all the housework
- a person who is excessively dependent upon or controlled by something: the poorest people of the world are slaves to the banks she was no slave to fashion
- a device, or part of one, directly controlled by another: [as modifier]: a slave cassette deck
- an ant captured in its pupal state by an ant of another species, for which it becomes a worker.
(verb)
work excessively hard: after slaving away for fourteen years, all he gets is two thousand
[with object] subject (a device) to control by another: should the need arise, the two channels can be slaved together.
Oxford dictionaries

Poster
This project emerged from the same sentene that it takes the tittle; "We are the new slaves". The materization of this sentence has benn a printed edition in a poster format of 500 units, 250 to stick in the public space and 250 as a signed, listed and limited edition. Therefore We are the new slaves consists in asking and propouseing the fact of renovation for somenthing old. Slavery, that has desapered supposedly, is already in force under other forms and structures. Invisibilizateing in some way, the own conditions of his cathegory.

Badgets
We propose the action of choose like a politic act by himself, although in this cases you only choose a badget. Any decision entails some concret consequences that you have to abide. Even wereas when we take the decision we are not conscients of all the consequences that this is going to affect to us. Take part of a slogan as own is also take a political and social part under determinated conditions, wich ones can be aspirations or situaltions from every individual. For this reason, in this process of deceisions, when someone chooses a badget he will take his pair too. It means his opposite or his natural cupple, that can be given to someone else. So through the language, we propose a reductionist game where the election odds of each individual are reduced, to provoke that each one have to take part of either, like in our lives.